Hi all... Glad you stopped by. I have some exciting news to share. I have been chosen to be on the design team at Daisy Doodles. I am so honored.
We have a new challenge going on over at DAISY DOODLES Creative Challenges. This week it's a color challenge. Make a card and use the color pink + one. Thats it!!! You can enter it
HERE
Check out the digi stamps
HERE
where you will find some very very awesome digi's for sale. Here is my card...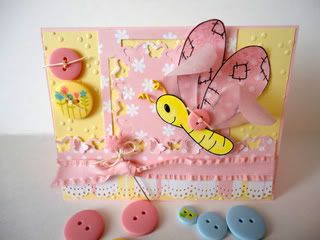 I picked this cute butterfly image she has available in her store, to use on my card. I decided to paper piece the image. I used Making Memories paper and printed the image on the dot paper, cut it out and then cut another set of wings from vellum. I colored the body with copics and made the antena's with wire. The buttons and stick pin are from Fancy Pants designs, ribbon is from my stash, and Martha Stewart punches.
Hop on over and see all the entries for this week. At the end of the challenge you can vote for your favorite...
Hugs xx
Challenges:
Simple Doodles
Stampin for the Weekend
Our Creative Corner
Meljen's Designs
The Creative Cottage
My Time To Craft