Just a few cards to post today... I have been working on these for a few days now. I finally got to finish them today. This is a valentine card I made for a friend of mine.
I fell in love with these papers that I found. I can't remember which company they are but I just love the yellow and red...
Thanks and have a great day
Hugs bye!!!
Challenges:
Mojo Monday
- sketch
I did this card and used an image from
Stetch N Bubbles
. Is she not CUTE!!! I loved decorating her and the card for a spring day. I just love all of Alison's digi's. She will be having a free digi tomorrow for all of ya so don't miss out.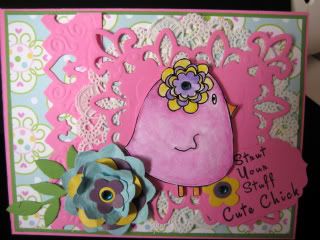 Challenges:
The Sweetest Thing
- Sweet Sunday Sketch #54
Pile It On
- Anything but Winter