Welcome to the StretchNBubbles Sketch Challenge Blog Hop. If you came here from
Pauline's
blog you're in the right place. If you stumbled upon this hop by accident, go to the
SNB blog
and start there. Be sure to leave comments on all the DTs posts along the way to be eligible for some great prizes!
StretchNBubbles is excited to announce their new Weekly Sketch Challenge. Each week there will be a new sketch designed by Alison for you to play along with. You can use ANY StretchNBubbles image (if you don't have any, you can pick up a new freebie every Wednesday) combine that image and the SNB sketch with any other challenge of your choice. Post your entry to the SNB Sketch Challenge Blog and you're in the running for a weekly top three award. A random winner will be chosen each week as well and that person will win any SNB image of their choice.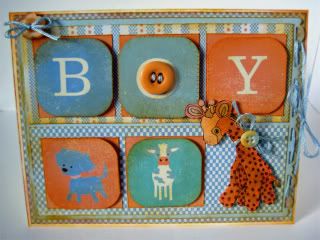 Here is the sketch:
I chose this darling Giraffe image to make my sketch card. I followed the sketch pretty close. I just left out two of the squares. All in all I loved how cute it can be for a new baby card, or you could do a Birthday card or anything else that you can imagine... So......
Be sure to leave a comment here on this post. I'll choose a winner from all the comments on Wednesday, April 14th and that person will win the image I used in my card. Leave comments on all the DT's posts along the hop and you can win the images they used too. Once you've made your way through the hop, you'll be in the running for the overall blog hop winner which means FOUR SNB images of your choice.
Your next stop is
Marcy.
After you've visited all the DT's blogs and left them comments, we invite you to play along in the first ever SNB Sketch Challenge.
Good Luck and have fun today and thanks for stopping by...
Hugs xx